Tesla seals the deal on East Bay's largest industrial lease ever
March 31, 2017 • Source: www.bizjournals.com • Posted in: Market News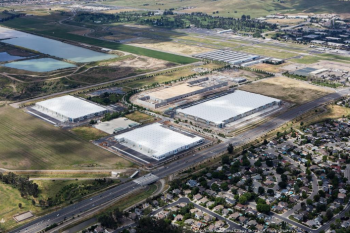 Tesla CEO Elon Musk never thinks small -- self-driving electric cars and solar power are, after all, just his stepping stones to Mars. So in April, when Tesla closed a deal for new warehouse space in Livermore, it didn't go halfway. It leased 1.3 million square feet spread across three buildings at the Oaks Logistics Center.
"It's the largest East Bay industrial deal of all time that I know of. At least in the last 30 years," said Robert Ferraro, senior vice president at CBRE, who along with Blake Rasmussen of CBRE, and Michael Lloyd of Colliers represented the landlord.
The $100 million project, developed by Trammell Crow Co. and partner Bentall Kennedy, is a 72.6-acre industrial Class A development that finished construction in June.
The deal comes as Tesla ramps up its capacity to meet consumer demand for its Model 3. The sedan, which retails for $35,000 and is expected to ship this year, has received hundreds of thousands of pre-orders.
The newly built site is well positioned, a 20-minute drive from Tesla's Fremont factory, and near the Livermore Municipal Airport. The location may have been too good for Tesla to pass up -- it closed the lease on the logistics and warehousing space before construction was completed. Tesla was also reported to have beaten out Amazon for the lease.
"It shows the huge demand for new designed buildings with all the bells and whistles," added Ferraro. "We call it flight to quality and the tenants are willing to pay above typical market rents to have the best quality buildings."
Although parties to the transaction declined to release specific leasing information, reports have suggested that Tesla's lease costs about $6.84 per square foot -- or $8.9 million per year.
The deal points to a tight-squeezed market for large-scale industrial space along the I-880 corridor, with demand for 200,00 square foot space and more outstripping supply.
External Link: http://www.bizjournals.com/sanfrancisco/news/2017/03/23/real-deals-industrial-tesla-at-oaks-logistics.html?ana=fbk