Hines and Oaktree buy massive East Bay office complex
April 4, 2017 • Posted in: Market News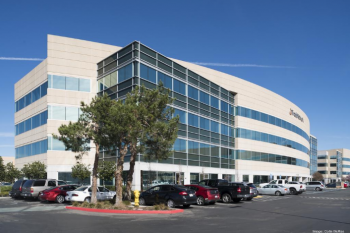 Hines and Oaktree Capital Management LP have purchased Dublin Corporate Center in one of the largest East Bay office sales of the year.
The developer and its financial partner paid $108.9 million or $247 per square foot, according to CoStar.
JPMorgan Chase & Co. (NYSE: JPM) sold the 440,266-square-foot complex of three office buildings at 4120-4160 Dublin Blvd. JPMorgan purchased the offices for $102.75 million in 2013.
Hines said the buildings are 83 percent leased, and that it would invest in renovations to the exteriors, common areas and office suites. The developer hasn't selected an architect or general contractor for the renovations. Current office tenants include Epicor Software, iTrade Networks and Callidus Cloud. The property was built in 2000.
A source said that the most recent lease at the complex had rents around $36 per square foot. That's close to Dublin's average Class A asking rent of $35 per square foot at the end of 2016, according to data from brokerage Colliers International.
The Tri-Valley office market improved in 2016, with the vacancy rate falling to 9.3 at the end of the year from 12.7 percent vacancy at the end of 2015.
Hines said it was attracted to Dublin's "attractive" office rents compared to other Bay Area cities, and the property's proximity to public transit and executive housing.
"We are excited about this opportunity to partner with Oaktree on our 29th joint venture to acquire Dublin Corporate Center. This is a very high-quality project that we plan to keep at the top of the market as Dublin and the Tri-Valley continue to grow. Dublin Corporate Center is an excellent addition to the Hines portfolio," said George Clever, Hines senior managing director, in a statement.
Mike Seifer, Erik Hanson and Rob Hielscher of JLL were the sales brokers. John Manning, Alex Witt, Sarah Bernhisel of JLL brokered the deal's financing from Bank of America Corp.
CBRE is now the property's leasing broker.
"We are excited again to acquire a best-in-class asset at a substantial discount to replacement cost with our operating partner Hines who has consistently demonstrated a high level of management expertise and an ability to deliver on our business plans," said Ambrose Fisher, managing director at Oaktree (NYSE: OAK), in a statement.
Hines' other East Bay properties include two housing developments in Oakland. Hines sold 2100 Powell St. in Emeryville, a 344,433-square-foot office tower, to the Blackstone Group LP (NYSE: BX) last year.
This story has been updated with the price and brokers.
External Link: http://www.bizjournals.com/sanfrancisco/news/2017/03/28/hines-oaktree-dublin-corporate-center-jpm-office.html